"I'm telling you, I haven't got the money! Are you going to leave her like this? She's in pain! Don't you even care?"
If you haven't heard this sentence already then don't worry – you will. The problem with trying to make money out of pain and suffering is… well, frequently, you're dealing with suffering animals in pain.
We didn't join the profession for the money (if you did, I'm very sorry for your disappointment). We joined it, for the most part, because we like animals and we want to care for them.
Unfortunately, it doesn't take long in practice to realise some clients are not above using emotional blackmail on veterinary staff.
A hypothetical actuality
A "classic" situation exists, a hypothetical one we talk about and worry about whenever we consider this problem. However, unlike a lot of hypotheticals, this one happens frequently – in fact, I'm willing to bet a reasonable fraction of you have been faced with it in the last year.
Dystocia. A whelping bitch or, occasionally, a kittening cat. Playing the percentages, it's likely to be brachycephalic. It's not unusual for each kitten or puppy to be worth several times what the caesarean the animal inevitably needs is going to cost, but:
"I don't get paid until Friday."
"I rushed out and didn't bring my wallet."
"My car is at the garage; I can't afford anything more this month."
"I can't get hold of my usual vet."
"I don't have the money."
I have heard each and every one, and many more, several times over. At least the last one gets to the point. Every time, I was working for businesses that were paying me from the money it earned from clients. Also, businesses that wouldn't be in business for very long if they offered treatment for free.
Bad, bad feeling
It doesn't matter how much role-playing you did at university (sadly, not the fun kind with dice and wizards), being told you don't care about animals because you dared to ask for money to provide medical care is not a good feeling.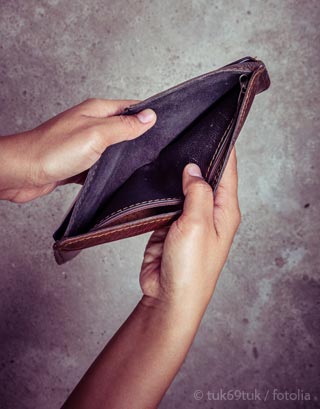 It doesn't matter how right you are, and it doesn't matter how much the client is at fault for putting their pet in a position of suffering and expecting you to sort it for free, asking for money when there is an animal in desperate need of help doesn't make you feel like a hero.
Here are your options in this scenario:
You go ahead and perform the caesarean. If it all goes smoothly, you spend a sleepless night worrying about what your boss is going to say the next day when they learn one of their junior vets has done it again. If you are the boss, you have a sleepless night worrying about overdrafts, debt collectors, margins and whether you just advertised your practice as "the one that will do caesareans for free" to all the disreputable breeders in the vicinity.
You refuse. You offer the bare minimum treatment to get the animal out of suffering – which, in this case, means euthanasia – and you hope like hell the client finds a way to pay, or at least finds another sucker to try their emotional blackmail on. Then we stare at the phone and try not to cry and try to remember those high-minded ideals that got us in this position in the first place.
Only human
Vets and nurses are human. In fact, not only are we human, I don't think its controversial to suggest we care about animals rather more than the average person. That's why, in almost all these situations, we go ahead with the caesarean. We hope we can spay the animal at the same time, we hope there aren't any females among the neonates and we hope we're not going to get into too much trouble for it.
We usually don't, because bosses are humans too.
I have refused, in my time…
At the end of evening surgery, a client walked in with a kittening Persian. She wasn't a client of the practice and we received strong hints from her previous practice (which she "couldn't get hold of") she owed them a lot of money and that, basically, we were welcome to her.
The day before, I had attended a practice meeting where my boss told me the business was in severe financial trouble and redundancies were possible if things did not improve. I swallowed my principles and tried not to look at the cat as I told the lady, unless she could pay some kind of deposit, all I could offer her was to euthanise her cat.
She picked up the basket and stormed out of the practice.
Cash on delivery
I stood in my consulting room with a horrible black hole in the pit of my stomach. The next 20 minutes were some of the worst of my career as I tried to contact my boss and read through the RCVS Code of Professional Conduct, while trying not to think about a pregnant cat straining in vain.
It was only for 20 minutes, though, because the woman phoned back to tell me she'd found a credit card she had "forgotten she had".
We performed the surgery, all the kittens were fine and the owner (who we never saw again) paid in full that night.
They don't all end that way. Even that story, which has a happy ending (as these things go) put me through some of my darkest moments and through some very negative emotions – shame, guilt and self-loathing before the phone call; anger and frustration afterwards.
The hardest thing
When people say to me euthanasia must be the hardest part of my job, I think of nights like this one instead, but I smile and agree because I don't want to look like a monster.
You may soon find yourself in this position, or one like it. It might even be this week. It doesn't matter when I tell you these dark emotions are all normal, or this situation isn't your fault – you already know this, rationally. That doesn't help.
So I'm going to say something else – something I said in my blog on depression – and I'm saying it because it's true: you are not alone.
Do what you have to do. However it turns out, remember this – the client might not think you care, but I know you do.