Part of this blog went out on my Facebook page on the night of the 2016 Crufts final, fuelled by sadness and prosecco – never a good combo!
At the time, I wrote:
It's wrong on all fronts but I'm #eric with #hazel as back up.
I'm pondering my relationship with Crufts after the GSD…

Posted by Jane Rvn on Sunday, 13 March 2016
This was the stance I took on the problems Crufts and pedigree dogs in general faced this year – similar to other years, but with a specific dog targeted and the usual issue over Pekes.
(un)desirable traits
In the media furore there came the anti-pedigree brigade – and I get where they are coming from; I too stand in practice facing the euthanasia of a patient on looks, the breed-specific legislation problem, treating animals for diseases caused by inbreeding and nursing patients through treatment only necessary due to their conformation – traits chosen by us as desirable.
But what would happen if the world suddenly became a place where the only dog available was a medium-sized brindle cross-breed, all high-energy and endless walks? Where does that leave people who can't have that type of dog?
Yes, we have bred dogs for the traits we desire, and I agree some of these traits are not good for the dog; when I see a Shar Pei I immediately think of total ear canal ablation and entropion.
Yet…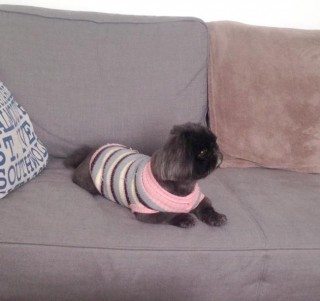 Yet I have a dog I love that suits my lifestyle and benefits from that lifestyle. We're in the garden as I write this. Hollie is relaxing and pootling around, and later we will go for a short walk. She'll be excited and keen to go, but only on the route she's familiar with. Don't try anything new. Or too hilly. Or on a hot day.
Funnily enough, this is my approach to exercise too.
She doesn't struggle to breathe. She does pant when pushed on exercise – as does any dog – but that's not struggling to breathe, that's just how they are.
That's why I thought claiming Eric was struggling to breathe at Crufts was a bit harsh. It was a hot, new environment, so I think a bit of panting is fine. If my dog did that, I wouldn't put her through that particular experience again, and that's probably the reason she wasn't one of the dogs shown from her kennel.
Learning to enjoy life
Just as important is the emotional state of dogs. My girl has been emotionally neglected. Even three years into having her, she still discovers new things to enjoy. At the moment, it is sleeping beside me on the sofa. Normal for many dogs, but a huge leap in trust for her. Wonderful cuddles for us both.
I have changed my lifestyle for her; I plan what we are doing and where we are going carefully – but I would do that with any dog. The only difference is my weekends aren't spent hiking with Hollie. We go to the park, the pub and the coffee shop. I get my hair done, she goes to the groomers. You may have read a previous post on her agility exploits – breaking the small dog stereotype.
To summarise: I don't agree with breeding to the detriment of a pet's life, but I do agree there needs to be a range of pets to suit all owners and lifestyles. Some form of controlled breeding will achieve this – and, hopefully, it will be a better system than there currently is.