My blogging career has been kind to me. As well as being invited to express my opinions, for what they are worth, on this website twice a month, I receive intermittent offers to write blogs for companies or to cover pet-based events.
One such offer could have seen me furnished with free tickets to Crufts and a request to cover the event. However, due to my feelings on dog breeding and The Kennel Club, I decided to refuse the offer. The whole affair slipped from my mind, and I got on with my life.
Then, Crufts happened.
Behind the times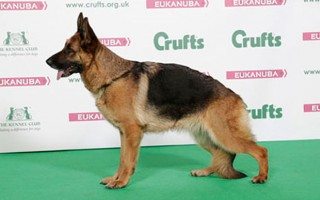 One disadvantage of writing this blog several weeks in advance is I'm a little behind the news with my responses. Maybe by now you've already forgotten the "best in breed" German shepherd dog. It's very fresh in my mind, however, and you didn't need to have a lot of veterinary training to recognise that dog's gait, because you'll be faced with it on a weekly basis in practice.
I have personally treated, and euthanised, many German shepherd dogs with similarly sloped backs due to hip dysplasia, arthritis or canine degenerative myelopathy – and here was a dog with a similar gait being celebrated as the pinnacle of everything the breed should be.
The Kennel Club would like us to believe this was an aberration, in my view. Footage of the dog was removed from the Crufts website (after many complaints from the public, charities, vets and nurses) and they made every indication this was an unusual situation, hinting that the judge in question had ignored advice (you can read the official statement here).
For better or worse?
I would like to think things are improving. I really would. I'd like to think The Kennel Club is trying to change things. But I am also a big believer in evidence-based medicine, so instead I'm going to let some of The Kennel Club's statistics do the talking.
In February this year, The Kennel Club released results of the Pedigree Breed Health Survey 2014 – a survey of owners of pedigree dogs about the diseases they suffer from. The fact they release surveys like this at all (the last one was in 2004) could, in my opinion, be looked on as progress – it is at least an acknowledgement of the (thankfully) now common knowledge pedigree breeds are generally less healthy than their mongrel counterparts.
However, I have a couple of problems with the study:
There is no comparison with cross-breed dogs.
It is based on a survey of pet owners, rather than medical records, and a number of biases may have crept into the study this way.
But enough preamble. I'm going to throw some figures at you to see how you feel.
Eternal optimism
The survey was announced on the vet times website with the headline "Majority of pedigree dogs suffer no disease condition, survey shows". Now, I'm not sure if that optimistic spin is from vet times or from The Kennel Club, but I'm here to point out that, by "majority", they mean 65%.
I'm no mathematician, but I'm pretty sure that leaves 35% of pedigree dogs suffering from, or having suffered from a disease condition. More than one-third of the population. I wouldn't be feeling too optimistic about that figure. It's true, as the article is very keen to point out, these "disease conditions" include comparatively benign disorders, such as lipomas or cysts, but some of the diseases are a little less benign.
The 65% figure refers to pedigree dogs as a whole. I'm going to give you the figures from some individual breeds.
Basset hounds
55% suffer from a disease condition – more than half, as reported by the owners. Cysts and lipomas make up the top two diseases (10% and 9% respectively), but below that, 8.3% of them suffer (and I use that word very deliberately) from allergic skin disease. A further 7.4% suffer from chronic itching (no, I don't know what the difference is either) and 4.1% have elbow dysplasia.
Boxers
54% have diseases. Top is lipomas (6.8%), but below that we have skin cancer at 6.6% and skin allergies at 5.8%. A further 5.11% have a skin "lump".
Bulldogs
This breed gets away surprisingly lightly – at 49%, just under half of them suffer from diseases. However, 15% of them (about one in six) have cherry eye, while 4.6% have distichiae.
Shar Peis
65% of them have diseases. 26.3% of them have entropion, as reported by the owners. I don't know how The Kennel Club feels about a population of dogs where one in four have their eyelashes rubbing on their eyeballs, but I'm pretty unhappy about it.
I could go on, but read the survey and draw your own conclusions.
German shepherd dogs do pretty well – only two in five dogs have medical issues (39%). One in 25 has hip dysplasia and a further one in 25 has arthritis. Same for allergic skin disease. How these figures will change given the "best in bred" example, I'm not sure, but I suspect it's not for the better.
For shame
These are not figures to be proud of, in my view. By themselves, they're pretty horrifying. Not only that, but I suspect I'm not the only vet reading this who is thinking "wow, those figures are lower than I see in my consulting room".
We have our own biases too, of course, but I suspect rather more than 8% of westies I see have allergic skin disease and I'm certain more than 10% of cavalier King Charles spaniels have heart murmurs. I don't want that to blind us, however, because, to me, those figures are pretty disgusting by themselves.
I've rambled on for a while, but I have a very simple point: this isn't acceptable. These breeds suffer – they really do, every minute of their lives – because a judge has decided they should be a certain shape.
Something needs to change and we're in a position to help change it – let's tell these figures to everyone we can, let's advise against breeding pedigree dogs. We are supposed to be the advocates for the animals when they are suffering.
Let's tell everyone how much suffering pedigree breeding causes.