Symposium to explore strategies for the management and elimination of canine rabies results in a joint statement that sets out the course of action required to make real progress in controlling the disease.
Recent cases of rabies reported in the Netherlands and France have highlighted the importance of the high level symposium held by the World Small Animal Veterinary Association (WSAVA) and the World Organisation for Animal Health (OIE) in Paris to explore strategies to manage and eliminate canine rabies.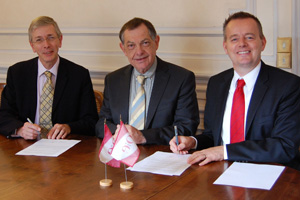 The symposium – entitled "One Health: Rabies and Other Disease Risks from Free-Roaming Dogs" and jointly chaired by OIE director general Bernard Vallat and Michael Day, chairman of the WSAVA One Health Committee – saw speakers from around the world share their experiences of managing free-roaming dog populations, the main source of human rabies and hundreds of millions of dog bites worldwide, which require post-exposure treatment.
The outcome of the meeting is a joint statement that sets out "the course of action that is required to make real progress in rabies control".
Professor Day explained: "Our summary statement sets out how small companion animal practitioners can engage with the global fight to eliminate canine rabies, while protecting the social importance of the bond that develops between people and their pets. The scale of human misery caused by this canine vaccine-preventable infection should not be tolerated in the 21st Century.
"We urge political leaders in countries where the disease is endemic to take action by establishing disease control programmes."
Dr Vallat added: "Rabies still causes up to 60,000 human deaths every year. More than 95% of human rabies cases are transmitted by dogs. Yet, rabies can be prevented at animal source; vaccination of dogs remains the most cost-effective, single intervention that protects humans from contracting the disease.
"A global dog vaccination campaign could be funded with just a small fraction of the funds currently used in post-exposure prophylaxis in humans. Vaccination of just 70% of a dog population leads to elimination of rabies in dogs."
Photo courtesy OIE