UK pig producers, already losing up to £6 a pig on worm-infested units, could be "blasting a hole", knocking millions of pounds off industry profits this year if they fail to reduce worm burdens.
UK pig producers, already losing up to £6 a pig on worm-infested units, could be "blasting a hole", knocking millions of poundss off industry profits this year if they fail to reduce worm burdens.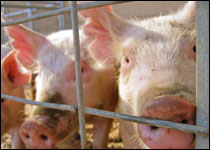 This finding is contained in a research study by a team of Danish and US pig scientists, which shows that worm infections in a pig herd can adversely affect the efficacy of Mycoplasma hyopneumoniae vaccines. The other bad news is that, like other nations pig industries, most UK herds are likely to have worm infections.
The study showed that three weeks after vaccination two-thirds of pigs infected with Ascaris suum, the large roundworm, had failed to seroconvert. This was compared to 100% seroconversion in the worm-free pigs at the same period. By the end of the study 22% of pigs had still not seroconverted.
The large roundworm is the most prevalent to infect pigs underlining the potential adverse impact on vaccine efficacy.
UK producers spent more than £5,297,000 on M.hyo vaccines last year and are expected to spend about the same amount this year. The potential impact of worms affecting seroconversion could be an immediate loss on vaccine costs.
Added to this are substantial financial losses from reduced growth rate and worse feed conversion efficiency caused by failure to protect against disease.
Mycoplasma vaccines are used to help prevent enzootic pneumonia which, among other challenges, is estimated to reduce growth rate by up to 15.9% and increase feed conversion by 13.8%.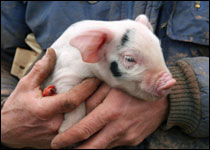 Phil Macdonald, pig and poultry business manager with Janssen Animal Health, said: "The total sum for losses, including the £6 per pig caused directly by worm infection, is potentially staggering."
The authors of the research paper comment: "Our study indicated that A. suum significantly compromised the effect of M. hyo vaccination. The impact of reduced vaccine efficacy caused by a common gastrointestinal helminth (worm infection) emphasises the importance of parasite control. More focus should be put into this area of research to outline the practical consequences of this interaction, and to be able to predict, prevent and correct negative interactions."
POOR WORMING STRATEGIES
Results of a recent survey carried out by Janssen Animal Health suggest many pig units in the UK have incorrect worming strategies in place.
Mr Macdonald said: "Two of the most basic problems on these units are that their worming programmes are not based on the prepatent period the life cycle of worms, and they do not cover all pigs in each herd."
He also suggested that the following factors were "a must" to achieve effective control and to cut the risk of reinfection:
Plan a strategic worming programme that covers all pigs on a unit and takes account of the large roundworm life cycle;
Base treatment on a broad spectrum anthelmintic, given in feed;
Purchased gilts and boars: Treat on arrival in isolation unit and again on entry to the main herd;
Sows and boars: Treat all breeding stock simultaneously two or three times a year, in spring, summer and autum;
Outdoor herds: Treat all sows/gilts just before moving to prevent contamination of clean land or re-infection of the her;
Weaners: Treat all batches from six to 10 weeks of age, before their transfer to clean finishing pen;
Grower/finisher pigs: Treat all batches every five weeks, leaving seven days after last treatment, before slaughter. The cost of worming a finishing pig three times is about 45p, which will give much better than a ten-fold return on investment, says Phil Macdonald.
Table 1. Correlation between milk spot liver % and loss per pig (kg)

Condemned
livers at
slaughter (%)

Decrease
in ADLWG (%)
ADLWG
g/day
Loss per pig (Kg)
0
0
700
0
10
2
686
1.82
20
4
672
3.64
30
5
665
4.55
40
6
658
5.46
50
7
650
6.50
Before the British Pig Health Scheme was initiated, Janssen Animal Health undertook numerous abattoir surveys to measure the level of milk spot lesions in pig livers. The lesions are caused by migrating larvae of the large roundworm. The results showed the disease was present in more than 50% of batches of pigs sent for slaughter.
The level of condemned livers is a good indicator of lost saleable meat (Table 1). Alarm bells should be ringing loudly when 10% or more of livers are condemned. By this time average daily liveweight gain has fallen by 2% and there is a loss of almost 2kg carcase weight.
Mr Macdonald said: "The industry can take some simple steps to cut these horrendous financial losses, improving growth rate of pigs and their feed efficiency, and ensuring they gain full value from money invested in Mycoplasma vaccines."