New "How could anyone?" appeal hits TV screens following a 40% increase in number of horses rescued by World Horse Welfare.
WORLD Horse Welfare (WHW) has unveiled its first ever TV appeal to speak out on damning horse crisis figures.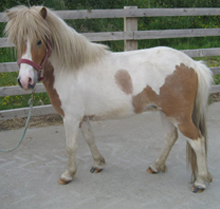 The appeal entitled "How could anyone?" encourages more people to support the charity's work, just as WHW announces a 40% increase in the number of horses it rescued in 2013.
Last October, multiple charities warned the public and the Government that a horse crisis was looming with 6,000 equines at risk. After a second review, WHW identified the number had risen to 7,000 equines in just six months.
Chief executive Roly Owers said: "The purpose of our appeal is to raise awareness of the scale of this challenge faced by charities across the board.
"Our recent stats show the horse crisis is well and truly upon us, as we witness more and more cases like the one featured in our TV appeal coming into our centres on a regular basis.
"We envisage that, through our appeal, we will encourage new supporters to help us save more horses like this from a life of misery."
The charity already has 320 horses in its direct care and continues to see an increase in the number of equines coming into its four rescue and rehoming centres across Britain.
WHW's efforts to rehome as many rehabilitated horses as it could during April's Rehome a Horse Month is part of a strategy to promote the benefits and importance of taking on rehabilitated horses.
A drop in rehoming figures showed this year 32% fewer horses were rehomed compared to 2012. WHF has also reported an increase in the number of reports about fly-grazed horses and "multiple" cases that need help, where more than 100 horses can be found in one group owing to indiscriminate breeding.
Officers have investigated 22% more welfare concerns in the first quarter of this year (577) compared to 474 in 2012 and an additional 66 concerns in conjunction with other organisations.
To help World Horse Welfare, telephone 0800 035 4120 to donate £2 a month or visit the charity's web page and donate: Click here