VIPs including Dogs Trust CEO Clarissa Baldwin, celebrity dog lover Amy Childs and Basildon mayor Mo Larkin came together last week to commemorate the start of building work on the charity's new Essex branch.
VIPs of all shapes and sizes came together last week to commemorate the start of building work on Dogs Trust Essex.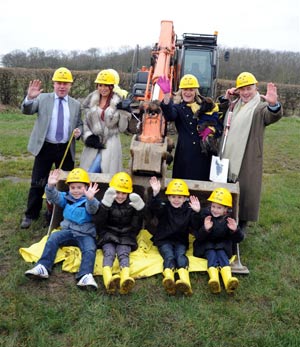 Joining rescue dogs Basil and Don on February 20, 2013, were TV star and dog lover Amy Childs, Dogs Trust chairman Philip Daubeny and Dogs Trust CEO Clarissa Baldwin. There were also numerous members of Basildon Council including Mayor Mo Larkin, council leader Tony Ball and Mark Francois, MP for Rayleigh and Wickford.
 
Due to open in 2014, Dogs Trust Essex will be a state of the art rehoming centre that will care for around 1,000 stray and abandoned dogs each year. The rehoming facilities will include:
69 glass kennels
a dedicated training and rehabilitation centre
a "real life" behaviour suite to get the dogs used to household sights and sounds
full veterinary/surgical suite, including a hydrotherapy room
exercise paddocks and runs
a training barn
a grooming suite
 
Dogs Trust says the new rehoming centre will create 30 new jobs ranging from managers, canine carers, training and behaviour staff to maintenance staff. The centre has already employed a full time education officer who will visit schools across Essex to teach children about safety around dogs and the importance of responsible dog ownership.
 
Ms Baldwin said: "We are delighted to be building our 20th rehoming centre in Essex. There were nearly 8,000 stray dogs collected by local authorities in the Anglia area last year alone and so our new centre is very much needed.
"We hope to be able to rehome a thousand dogs a year at Dogs Trust Essex, so the future is looking brighter for dogs in the region."