The head of a leading charity has claimed the lives of a million creatures could be saved every year by enhancing the profession's knowledge of wild animal medicine.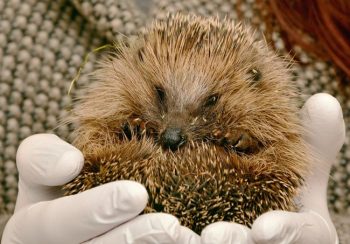 Simon Cowell, founder of the Wildlife Aid Foundation (WAF) – one of Europe's largest rescue and rehabilitation hospitals – feels wildlife medicine has been "hugely neglected" historically, despite the number of patients that pass through practice doors annually.
A study conducted by Plymouth University – Perceptions of responsibility and capability for treating wildlife casualties in UK veterinary practices – suggested UK veterinary practices may be dealing with up to 170,000 cases of wildlife casualties per year while facing significant restrictions in terms of cost, knowledge and facilities.
Mr Cowell, however, believes the number could be significantly higher.
He said: "There are approximately 20,000 vets in the UK and, say each vet sees one wildlife patient a week, that's nearly a million – and I reckon that is how many animals vets could see per year.
"I think everything deserves and should get help. Now, that's not asking vets to spend thousands on every animal they see, just to pass it to a wildlife hospital that can do all the ongoing treatment and rehabilitation. All we are asking for is a quick triage type of service."
Misdiagnosed cases
To illustrate the problems around this perceived lack of education around wildlife medicine, Mr Cowell documented some of the various seriously misdiagnosed cases that come through the door.
He added: "For example, we see hedgehogs come in after being kept in a practice for a week having been given the wrong food, with staff not having realised it had a broken pelvis.
"That sort of thing happens – not frequently, but that's what we want to try to eradicate."
Mr Cowell also believes more lecture time and CPD hours should be dedicated to teaching students and qualified practitioners about wildlife medicine.
Specialist hospitals
Mr Cowell wants vets to use wildlife hospitals to share and boost knowledge.
For those looking to brush up on their wildlife skills, the WAF is "desperately" seeking volunteer vets and RVNs to help with the workload.
For more information and to apply for a placement, visit www.wildlifeaid.org.uk or email alice@wildlifeaid.org.uk
Read the full story in 12 June issue of Veterinary Times.