Staff from White Cross Vets have enhanced their skill sets and are subsequently celebrating after obtaining leadership and management qualifications. 
The veterinary group entered two of its Coulby Newham practice team members – clinic director and vet Rob Reid and head nurse Ashley Whitehead – for the Institute of Leadership and Management (ILM) qualification.
Vets Dave Hough and James Wood, clinic directors at the Birmingham and Leeds practices respectively, and Redcar practice head nurse Allison Hodgson, also undertook the course.
Take home skills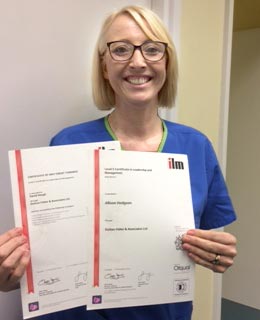 Dr Reid said: "The training has been very practical and engaging and I am looking forward to implementing the skills I have learned in the practice in Coulby Newham alongside Ashley.
"The ILM is all about management, best practice and leadership – all essential skills in a practice of our size and it's been very rewarding to achieve this qualification."
Relevant qualification
White Cross Vets managing director Tim Harrison said: "Rob, Ashley, Dave, James and Allison are our latest team members to complete this highly relevant qualification.
"We are delighted the rest of the management team are all embarking upon the ILM too, which will ultimately help them develop further management and leadership skills that will benefit everyone who works here, as well as our clients and their much-loved pets."