A group of otters received a welcome hamper from their keepers after moving into their new home at ZSL Whipsnade Zoo.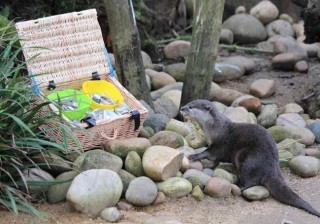 Zookeepers prepared a hamper full of fishy treats to celebrate the arrival of three female Asian small-clawed otters, called Blaze, Noodle and Drumstick.
They join two male otters, Fattie and Chopstick – who have lived at Whipsnade Zoo since 2005, to form a new social group.
House-warming hamper
Senior keeper Alex Pinnell said: "Blaze, Noodle and Drumstick are a very excitable trio, and they're already keeping the male otters on their toes.
"All five have settled well into the new social group, so we thought we'd help them celebrate with a house-warming hamper.
"We feed the otters a huge range of different freshwater and saltwater fish, as well as prawns, mussels, mice and broccoli. We've put all their favourite snacks in and the hamper will be something totally new for them to explore and enjoy. They're an inquisitive bunch, I'm sure they'll be delighted by their treat."
Asian small-clawed otters are classified as vulnerable by the IUCN Red List; due to habitat destruction, water pollution and hunting.
Visitors can see the new arrivals and take part in Monster Myth-busting activities during half-term at ZSL Whipsnade Zoo.