Pedigree has thrown the spotlight on dog health and wellbeing by launching its first Wet Nose Week.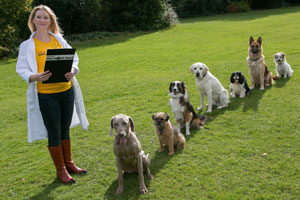 The seven-day campaign starts today (October 8) and will also focus on a dog's "Four Universal Needs" – the nutritional ingredients that help maintain oral health, optimum digestion, healthy skin and coat and a robust immune system.
Over the course of this week Joanna Page from TV's Gavin and Stacey, along with her dog Daisy and TV vet Steve Leonard, will be leading a range of activities aimed at encouraging people to think about what they feed their dogs.
Pedigree brand manager Gemma Howells said: "We believe every dog should be fit and healthy all year round. Pedigree Wet Nose Week is one step towards that goal, and has been launched as a fun and engaging way to give owners a better insight into their dog's health, wellbeing and nutritional needs.
"We want to help owners with some guidance about what they can do themselves, within their own homes to ensure their dogs are in optimum shape, health and well-being."
As part of the campaign, Pedigree has also launched its 'Paws For Thought' report, which looks at trends in UK pet ownership.