The Italian Government has confirmed the first case of West Nile virus(WNV) in a horse this year. The infected horse is in Correggio, asmall town in the northern Italian province of Emilia Romagna.
Correggio is about 60km from Ferrara, the source of the 2008 outbreak which affected two humans and approximately 70 horses. This new case has appeared six weeks earlier in the season than last year's outbreak and confirms that WNV is endemic to Italy.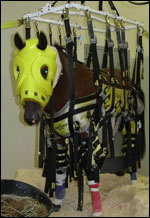 WNV is an arthropod-borne virus transmitted by mosquitoes, including the Culex, Aedes and Anopheles species, which circulate in Europe.
The reservoir hosts are birds with wild birds believed to spread the disease during migration. The disease causes significant mortality in birds and can be transmitted to mammals and humans via mosquito bites.
Horses are an important indicator of the presence of the virus as they may show symptoms of infection including neurological encephalitis. The incubation period is three to 15 days and the mortality rate among horses showing clinical illness has been reported to be as high as 40 per cent.
The first equine WNV vaccine in Europe (Fort Dodge's Duvaxyn WNV) was launched earlier this year but, unfortuately, there is no cure for the condition. Horses can survive with aggressive nursing therapy though some suffer permanent neurological defects.
Although the virus cannot be transmitted horse to horse, or from horse to humans, any unvaccinated horse is at risk.
Helen Barnes, European equine business manager for Fort Dodge, said: "It's another grim reminder of the threat this disease poses to the equestrian industry in Europe.
"With major events, such as the Venice All Stars International competition less than eight weeks away, we advise those planning to travel with their horses to Europe, particularly to regions such as Italy and Hungary where cases of WNV have recently been confirmed, to discuss a preventive health strategy for WNV with their vet.
"With little current natural immunity among the equine population in Europe, the consequences of a major outbreak could be devastating."
Further information can also be found at www.westnile.eu


Image courtesy ofKansas State University College of Veterinary Medicine