Draft regulations being consulted in Wales could see vets beingmade responsible for prescribing electronic devices used to train animals by aversive techniques, such as shock collars.
The Kennel Club has been campaigning against the sale and use of these devices for many years and claim the regulations are "an extremely welcome and positive step forward in the campaign to ban electric training devices completely in the UK".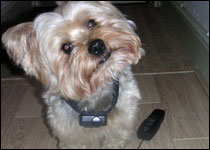 Wales has set a precedent and the regulations (if passed) will not only put an end to the current suffering of dogs at the hands of these devices, but will also act as a deterrent for anyone contemplating using one.
However, the Kennel Club believes that the regulations could be made stronger and that there are potential loopholes that would allow an owner to use an electric shock collar if it was recommended by a vet.
The Kennel Club has had discussions with a number of members of the veterinary profession who have raised serious concerns over this issue and the level of responsibility it places upon them.
There are also concerns that vets, while extremely well qualified, are not behaviourists and may not have sufficient understanding of behavioural problems. There is also the real risk that some vets may become known to prescribe shock collars and be targeted by pet owners and trainers wishing to use them.
Caroline Kisko, Kennel Club Communications Director, said: "We aredelighted that the Minister has issued draft regulations which willregulate the use of electric shock collars and other devices. However,we are concerned that the public will still be able to obtain theseproducts via a 'prescription' from their vet. This will inevitablyplace a significant level of responsibility upon the veterinaryprofession and we believe that it is vital that vets make their viewson this issue known as part of the consultation process."
The Consultation on the Animal Welfare (Electronic Devices)(Wales) Regulations 2009 closes on May 27. Full details can be found here .
For further information, please contact the Kennel Club External Affairs department on 0870 606 6750 ext 301 or visit www.banshockcollars.org.uk .
Shock collar image courtesy of The Kennel Club