Animal welfare charities have welcomed news that the first vaccine against bovine tuberculosis in badgers will beused in the field in England next year.
The Badger Trust and RSPCA both released statements of support following the announcement that vaccinationwill start in 2010 and continue for at least five years. Environment secretary HilaryBenn said the vaccine will be used in six areas of up to 100km² where there isa high incidence of bovine tuberculosis (bTB) in cattle.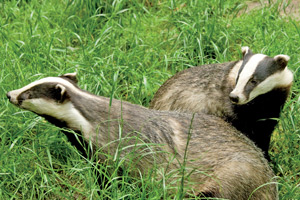 This will be the first practical use of a vaccine for TB in badgers outside research trials.
According to DEFRA, the deployment project will focus on developing practical approachesfor use rather than developing further evidence of the effectiveness ofthe vaccine, although the government department will be looking at the number of cattleherd TB breakdowns in the areas for any changes in cattle diseasetrends.
Mr Benn said: "Developing an effective vaccine for bovine TB is only half thechallenge. The other is to deploy it effectively. This project willhelp us do that. As such it marks real progress in our fight againstthis terrible disease."
The project will focus on ease of use in the field, securing localengagement in the vaccination campaign, developing practical know howand creation of a skills base. DEFRA will begin to sign up participants and train personnel during 2009, with vaccination expected to begin in summer 2010.
Badger Trust chairman David Williams cautiously welcomed the project.He said: "Even though the badger culling trial found that barely oneper cent of badgers had significant TB infection, we hope that thisvaccine will give badgers further protection from bovine TB, whichcontinues to be spread by cattle because the TB testing regime isinadequately enforced by Animal Health.
"The challenge now is to get tough on TB testing so that the real causeof this epidemic – cattle to cattle transmission – can be put intoreverse. The science shows it can be done, but it requires realpolitical will to deliver that objective."
RSPCA senior wildlife scientist Colin Booty said the plan was far preferable to culling and called it "a step in the right direction".
He said: "We hope the project will help to build knowledge about how an oral vaccine may be used in the future. That would remove the need for badgers to be caught and injected, and instead mean the badger ingesting the vaccine through bait left out in the field."
He said the RSPCA looks forward to discussing with DEFRA how the society may be able to assist with the project.