Research commisioned by Bayer, which has traced the movement of snails with UV paint and LED lights, finds not only that the molluscs travel further than thought, but also creates some stunning images.
New research commissioned by Bayer's "Be Lungworm Aware" campaign has not only found snails can explore the length of an average British garden in just one night at a top speed of one metre per hour, but has also created some unexpectedly beautiful images.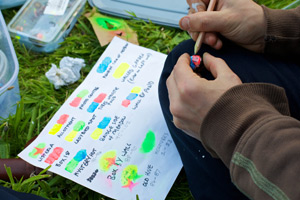 The photos, taken as researchers from the University of Exeter traced the movements of 450 UV-painted garden snails with LED lights, show firework-like patterns as the molluscs travel distances of up to 25 metres in a 24-hour period.
It shows how they seek out shelter, such as long grass, trees or objects, including dogs' toys that have been left in the garden overnight. It was also discovered snails move in convoys, piggy-backing on the slime of other snails to conserve energy.
According to Bayer, the study was commissioned as a resource for dog owners whose pets are at risk from lungworm Angiostrongylus vasorum, the potentially fatal parasite contracted when dogs accidentally swallow slugs or snails, which can often be found in dog toys, puddles and long grass.
The prevalence of the parasite seems to be getting worse too, after a survey of 150 vet practices suggested lungworm is now endemic throughout much of the UK, with 952 suspected cases and 81 potential deaths this year.
Dave Hodgson, associate professor of ecology at the University of Exeter, who led the research, said that "no one has fully understood" the habits of garden snails until now.
"In this research we wanted to solve the mystery surrounding gastropod activity and provide a resource for gardeners and pet owners wanting to better safeguard the health of their plants and pets," he said.
"By learning more about the behaviour of snails, we hope dog owners can better understand the ways in which dogs can encounter snails on a day-to-day basis and the lungworm risk they present. Then owners can take the appropriate precautions."  
Bayer's "Be Lungworm Aware" campaign aims to help educate dog owners about the infection and encourage vigilance of the signs. For more information, visit Bayer's lungworm website.