The Kennel Club (KC) has warned of the dangers of leaving dogsunattended in vehicles after a spate of deaths during this week'sheatwave.
Four dogs died in three separate incidents in the Scottish Highlands last weekend, while two German shepherd police dogs died after being left in a parked police car in Nottinghamshire. It is thought temperatures inside the police car hit 50C.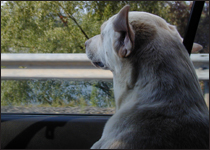 With temperatures in parts of the UK hitting more than 30C this week, and in the wake of the tragic deaths of the dogs, the KC has pleaded with dog owners to not leave dogs unattended in parked cars.
The KC says heat is intensified through car windscreens and windows, and even with windows open it can take just 20 minutes for dogs to suffer from heatstroke and die an agonising death.
The Kennel Club has launched a campaign called "Open for Dogs", which is encouraging more businesses to accept dogs, avoiding the need to leave them unattended in hot cars. Thousands of dog-friendly attractions are currently listed on the website www.openfordogs.org.uk
Caroline Kisko, communications director at KC said: "Even responsible dog owners can make the mistake of not realising just how lethal travelling in the heat with their dog can be.
"The soaring temperatures only intensify the problem dogs have when travelling in hot conditions. I would urge owners to only travel if they can ensure that their dog can be kept cool, and if their destination is dog-friendly so they are not left in a vehicle.
"Restrictions for dog owners on where they can take their dogs seem to be an ever-increasing dilemma for many. We are constantly lobbying with our 'Open for Dogs' campaign, to ensure that dogs are welcome wherever their owners wish to travel. If this is not possible then people really must either leave their dog at home or not travel at all."
The KC has produced a free car travel pack, which includes a road travel information guide, car sticker and car sunshade. Guidelines for travelling with dogs can also be downloaded from a special section of its website – www.doginformation.org.uk