A vulnerable dog breed will be in the spotlight on June 13-14 whena championship show and a series of fun events will be held in itshonour, at the Uttoxeter Race Course in Staffordshire.
People will have the rare chance to get up close and personal with theIrish red and white setter, which is on the Kennel Club's Native andIrish Vulnerable Breeds list due to the fact that only 142 puppies wereregistered in 2008.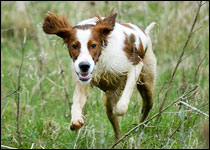 Despite the breed's declining numbers, a bumper entry of around 100Irish red and white setters are expected at the championship show onSunday 14 June, so there will be plenty of opportunity to see the breedand talk to both owners and breeders alike. Other attractions on theday include a "parade of champions", demonstrations of flying a hawk,canine massage therapy and a grand draw with "exciting prizes" to bewon.
On Saturday (June 13) there is also the opportunity tolearn about the breed from nine expert speakers and there will bediscussions about how to protect and promote the breed going forward.This will be followed by a gala dinner.
Jane Valentine,secretary of the Irish Red and White Setter Club of Great Britain,said: "The championship dog show is a great opportunity to show thesewonderful dogs at their best and by hosting a whole weekend of funactivities and discussions dedicated to the breed, people can see justwhat charming characters these dogs are. We want future generations tobe able to enjoy this breed, which will not be possible if theirnumbers continue to decline.
"Anybody who visits over thecourse of the weekend will find that although patience is oftenrequired to care for this active and intelligent breed, it is all worthit because the Irish red and white setter has a happy, good-natured andaffectionate temperament."
The Irish red and white setterweekend is being hosted to celebrate the breed club's 25th year ofKennel Club registration and promoting and caring for this Irish nativebreed.
The weekend's events will be held at UttoxeterRacecourse, Wood Lane, Staffordshire. Judge elect is breed doyenne andclub president Ann Gormley (Meudon).
If you would like totake part in this weekend celebration of the Irish red and whitesetter, or for more information on either the above weekend's events orthe breed, please contact the hon secretary of the Irish Red and WhiteSetter Club of Great Britain, Jane Valentine on 01536 790159 or visit www.irishredandwhitesetterclub.com .