A unique one health partnership between a UK veterinary neurologist and a paediatric neurosurgeon could signal "the biggest step forward in managing canine epilepsy".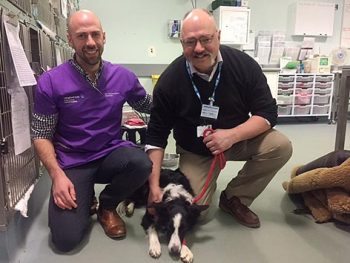 Tom Harcourt-Brown, veterinary neurologist from the University of Bristol's Langford Vets, and Mike Carter, paediatric neurosurgeon from the Bristol Royal Hospital for Children (BRHC), have joined forces to implant a vagus nerve stimulator (VNS) into Jago, a four-year-old border collie suffering from medically unresponsive epilepsy.
The Paediatric Epilepsy Surgery centre at BRHC implants around 30 VNSs into epileptic children every year. Research work demonstrated the technique could be effective in other mammals, including dogs, although this is the first procedure of its type to be undertaken in the UK.
The collaborative operation to successfully implant the VNS was performed after Jago's epileptic seizures became so frequent he was suffering severe clusters of fits per week.
'Serendipitous' meeting
Mr Harcourt-Brown said a "serendipitous" meeting with dog owner Dr Carter sparked the current project, which was only able to go ahead with the assistance of LivaNova, the company that makes the VNS devices.
Mr Harcourt-Brown said: "LivaNova has supported us massively with this and put aside 10 implants at virtually cost price. Langford Vets is also subsidising the treatment cost and Mr Carter is supporting us in his own time.
"Although this is still a reasonably expensive option, we are able to offer this treatment to owners of epileptic dogs."
Gauging interest
Mr Harcourt-Brown also said: "The aim is to gauge interest and effectiveness with [the implant] in dogs; we think it will be massive. The idea is to develop a cheaper, more dog-specific version. We are looking to recruit patients and would encourage any vet with a problematic epileptic dog who appears resistant to drug therapy to contact us at Langford Vets to discuss suitability."
Read the full story in the 13 March issue of Veterinary Times.