A veterinary cancer nurse at the Royal (Dick) School of Veterinarystudies has become the first person in the UK to receive an internationallyrecognised specialist qualification in oncology.
Linda Roberts, who is based at the School's ₤3million veterinary cancer care centre, received the qualification following 6,000 hours of specialist oncology work over a three year period.
The Veterinary Technician Specialty in Oncology qualification is awarded by the Academy of Internal Medicine for Veterinary Technicians and accredited by the American Veterinary Association.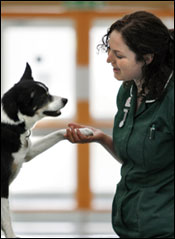 It is highly competitive and a total of 75 cases needed to be submitted and passed before candidates are eligible to sit an exam. There is no comparative qualification available in Britain.
Miss Roberts travelled out to the American College of Veterinary Internal Medicine congress in Montreal to sit the exam. Studies incorporated chemotherapy, medical and radiation oncology, anaesthesia and analgesia and advanced diagnostic and therapeutic techniques.
She said: "I am delighted to have achieved this. It was a lot of hard work but well worth it and will certainly help in my role as a cancer nurse at the School's new veterinary cancer care centre, having covered a range of issues from looking at treatments to communicating with clients at what can often be a very emotional time."
Miss Roberts qualified as a veterinary nurse in 2002, whilst working ingeneral practice in the New Forest. She spent some time at the RoyalVeterinary College working as a medicine/intensive care nurse beforejoining the Hospital for Small Animals at the Royal (Dick) in 2004. Since then, Miss Roberts has taken up the post of cancer and wellness nurse, supported by Royal Canin, and obtained her Diploma inAdvanced Veterinary Nursing (Medical) in 2005.
Pauline Devlin of Royal Canin said: "We are proud to have Linda as our nurse at the Wellness Clinic. She is truly dedicated and hardworking with a real passion for all of the animals in her care and we're delighted that all of her hard work has paid off. The qualification is well deserved."