Farmers should no longer be targeted with advertising for antimicrobial medicines, according to the VMD.
Farmers should no longer be targeted with advertising for antimicrobial medicines, according to the VMD.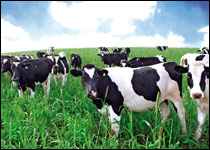 The regulator has launched a consultation as part of its annual review of the Veterinary Medicines Regulations (VMR), and has proposed 18 changes to current UK medicines law.
The VMD is concerned about antimicrobial resistance, and its officials believe farmers are putting pressure on large animal vets to supply certain products. It wants antimicrobial adverts to be pulled from the farming press and targeted solely at vets, VNs and pharmacists to ensure "prudent usage".
John FitzGerald, operations director at the VMD, said: "To maintain good standards of animal health and welfare, it is crucial antimicrobial drugs remain effective. Responsible prescribing is essential to avoiding premature development of resistance.
"It is considered that advertising these drugs to professional keepers of animals is leading to pressure on vets to prescribe new products that are being promoted as offering commercial benefits, when established older products may be a better therapeutic choice for treatment and for the control of antimicrobial resistance," he added.
However, NOAH has come out in opposition to the VMD proposal, stating it does not believe banning antimicrobial adverts from a farming audience will reduce resistance problems.
Antimicrobial resistance has become a growing issue in Europe, and NOAH chief executive Phil Sketchley believes the VMD proposal has been influenced by political considerations.
"While NOAH can understand the political pressures on the regulatory system that have brought about this proposed change, we must ensure this proposed ban does not impinge on providing farmers with essential information relating to the health and welfare of their animals," he said.
Mr Sketchley said farmers needed to be kept briefed on the properties of antimicrobials, adding NOAH would continue to lobby its animal health members to launch education campaigns about antimicrobial usage.
He said: "Promotion by our members plays a key role in this, but, importantly, we must always remember antimicrobial medicines for all animals are POM-V, meaning they have to be prescribed by a veterinary surgeon. Therefore, it should be the vet who makes the decision on whether an antibiotic is needed."
For more on this story, see Veterinary Times 40.27.