To support National Microchipping Month in June, Virbac is providing a free support pack for practices to use in the waiting room and online – plus a chance for staff to win prizes.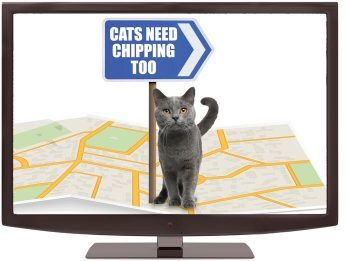 Winner of the pharmaceutical company's best display competition will bag a 32-inch TV for their waiting room, and there are luxury chocolates for the runners-up.
Prize draw
As well as dogs, the company is also promoting microchipping for cats and is running an exclusive competition to cat owners.
All owners whose cat is microchipped with a Virbac BackHome Mini chip this June can enter a prize draw to win a GPS tracker for their collar to help owners discover just how far their pet actually roams.
Cat focus
BackHome product manager Sarah Dixon explained: "There is no legal requirement for cats to be microchipped, but the benefits are clear.
"We looked at a recent study which showed, in a 24 hour period, cats ranged on average 2 hectares with an average maximum of 7 hectares – or about 10 football pitches. One cat roamed nearly 34 hectares.
"The competition should reinforce the message about why microchipping is beneficial to all pets.