WSAVA is calling on veterinary healthcare professionals in small animal practice to give their views on how familiar they are with nutritional assessments, including such methods as body condition scoring.
WSAVA is calling on members of veterinary healthcare professionals to give their views on how well nutritional assessments are carried out in practice.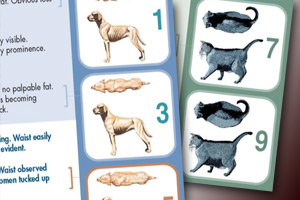 The association has launched an online survey, coordinated by RVN Rachel Lumbis, asking how familiar veterinary professionals are with nutritional assessments and tools such as body condition scoring, as well as which members of the practice team normally carry out these assessments.
In 2010, WSAVA's Global Nutrition Committee created its seminal guidelines on the Nutritional Assessment Guidelines for Dogs and Cats, with the aim of having them adopted by all vet practices across the globe.
However, while the association is pushing for more small animal practices to focus on nutrition, it also cites current research from the US Pet Nutrition Alliance, which found 90% of owners wanted a nutrition recommendation from their vets, but only 15% actually got one.
Rachel told Vetsonline it was crucial to identify which practice members carried out assessments, and how they did so, in order to "advance the central role of the veterinary health care team as the expert source of information for optimal pet nutrition".
She said: "Veterinary nurses frequently utilise their knowledge and skills to assist in the nutritional assessment process, formulation of feeding plans and provision of necessary nutritional support, as well as helping to educate pet owners about the importance of nutrition in companion animal health.
"It is, therefore, essential that the views of VNs are taken into account when trying to establish the successful implementation of nutrition as a vital assessment in small animal practice."