The Dairy Group, The University of Nottingham and Quality Milk Management Services ask for "open and frank" views and data from cattle vets and farmers for study.
A consortium of dairy organisations is asking for data, views and opinions on the use of recycled manure solids (RMS) as a bedding material for dairy cattle.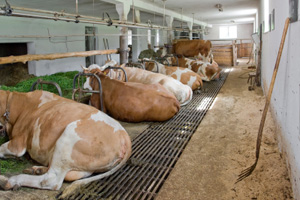 In a letter sent to the British Cattle Veterinary Association (BCVA), The Dairy Group, The University of Nottingham and Quality Milk Management Services (QMMS) announce they have been awarded a contract to study the "potential risks and benefits" of the use of RMS as a bedding material. The aim of the study, they say, is to help industry and Government better understand how the use may impact the industry and human and animal health, from both a practical on farm perspective and in a legal context.
As part of the review, the researchers will be studying both peer reviewed and so-called "grey" literature, as well as seeking any field experiences that manufacturers, farmers or their vets may have had.
In the letter, the organisations write: "We would be very grateful if [respondents] could take a few moments to share with us any information [they] have, which [they] feel may be relevant to our review.
"In particular, as well as any data [they] may have generated, we would much appreciate any literature [they] may have acquired from conferences or other less readily available sources."
The consortium goes on to stress its approach during the study will be "independent and unbiased" and does not come from "any preconceived positions".
"We feel it is crucial for the industry that a scoping study such as this is undertaken," they said. "With that in mind, we would ask [respondents] to be open and frank with any information [they] may have."
To help with the study, you can email Andrew Bradley at QMMS, Martin Green at The University of Nottingham or Ian Ohnstad at The Dairy Group.