The Kennel Club has produced three videos to help potential puppy buyers figure out if they are ready for a canine housemate, find a responsible breeder and pick the best breed for their lifestyle.
The Kennel Club has produced three new films to help tackle puppy farming and impulse puppy buying.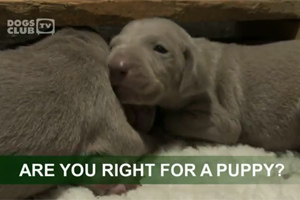 The club has produced the films to help ensure potential puppy buyers have considered the responsibilities of owning a puppy before buying one as well as making sure they pick the right breed to suit their lifestyle. One of the films also aims to help people find a responsible breeder.
The videos have been created by the club after a survey – carried out on 1,008 respondents as part of Puppy Awareness Week (September 8-15, 2012) – revealed that almost one in five people said their prime motivator for buying a dog was the way it looked, while only 35% said they chose a dog because they thought it would be a good fit for their lifestyle.
Other findings revealed that 20% of respondents bought puppies over the internet, in a pet shop or from a free newspaper ad, while one-third did not see their puppy with its mum or in its breeding environment.
Kennel Club secretary Caroline Kisko said of the problems that prompted the videos: "It is incredibly sad but not surprising that we have such a huge rescue dog population when so many people jump into dog ownership without giving it the thought it deserves.
"These films help point people to Kennel Club assured breeders and to Kennel Club breed rescue homes, and show the kind of problems that a dog can get later in life if you go to the wrong breeder."
The videos are available on Crufts' YouTube channel.
Image © Kennel Club