Bayer have produced a new animation to highlight the flea life cycle to help owners and vets treat their animals more effectively all year round.
VETS have been warned that climate change, central heating and modern insulation have created a climate for fleas to thrive all year round.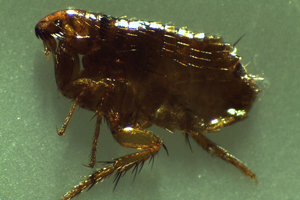 Rather than just being a summer problem, Ian Wright from the European Scientific Counsel Companion Animal Parasites (ESCCAP) UK and Ireland has urged vets to warn owners about a potential population explosion.
He said: "Fleas are normally associated with the summer months, however atypical weather patterns over the past few years, combined with central heating and modern insulation, has allowed them to thrive, with a population peak as the heating goes on that can catch many of the UK's 13 million pet owners, and their vets, off-guard.
"These parasites are now firmly a year-round problem. "Our cosy autumn homes are the ideal breeding ground for the parasite. Many pet owners don't realise this and fail to protect their homes after the summer."
Pest control expert, David Cross from Rentokil also warned of the recent rise in infestations: "Fleas have been springing up everywhere over the past year. In August it was reported that infestations had risen by over 150% since 2010, and by 46% in the preceding 12 months."
The effect fleas can have on pets and owners extends past troublesome itchy bites with flea allergic dermatitis (FAD) now considered the most common dermatological condition seen by vets in this country.
Diseases transmitted by the parasites include Bartonella henselae (cat scratch disease) and Mycoplasma haemofelis.
Mr Wright added: "Once a home is infested, it can be difficult to treat and owner expectations are often unrealistic as to how quickly an infestation may be controlled.
"When flea control programmes appear to fail, the problem often lies in lack of understanding among pet owners that adequate control relies on environmental treatment and correct application of an effective adulticide at the recommended frequency."
A new animation from Bayer, makers of Advantage, provides an explanation of the flea lifecycle to help owners understand the need to treat regularly.
For more information see the YouTube campaign.