In advance of Puppy Farm Awareness Day, the BVA and BSAVA are encouraging vets toeducate their clients about the high level of risk and potential health and welfare issues that their clients mayinadvertently be buying into.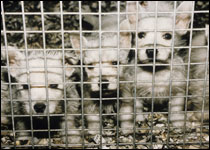 The event, launched by Puppy Love, Hope UK andPuppy Alert in conjunction with the US-based Puppy Mill Awareness Dayevent, will take place on September 19.
BVA President Nicky Paull said: "With the ongoing concerns regarding the health and welfare of pedigree dogs the serious problems of the health and welfare of farmed puppies must not be overshadowed. It is surprising that clients still think they are getting a good deal when buying from puppy farms and, in some situations, actually think they are doing the right thing by avoiding a registered pedigree.
"We wholeheartedly support any initiative that makes people stop and think before they buy the family companion from the 'bloke down the road' who might even have supplied the pet shop around the corner or advertised on the internet.
"Vets are ideally placed to help owners choose a puppy that will have the best chance of avoiding the sadness that health and welfare problems can bring by advocating careful sourcing of the family pet."
BSAVA president Richard Dixon said: "The BSAVA couldn't agree more and the entire small animal profession has a role to play in ensuring that the public make the right decision when it comes to their new puppy. As a profession we are well aware of the problems of puppy farming but the truth is that most of our clients know nothing about the issue.
"New owners and families quickly get caught up in the excitement of their new household addition by which time it is invariably too late to influence them. Giving the whole practice team, particularly the nursing staff, a role in pro-actively educating clients of the hazards of puppy farms is important in ensuring good decisions by new owners and better health and welfare for our nation's pets."