Equine veterinary surgeons are being called upon to raise awareness of sweet itch during the inaugural Sweet Itch Awareness Month (April), which will be backed by a wide-ranging marketing campaign.
Equine veterinary surgeons are being called upon to raise awareness of sweet itch during the inaugural Sweet Itch Awareness Month (SIAM) which takes place throughout April.
A joint initiative between Janssen Animal Health, the British Horse Society (BHS), Redwings Horse Sanctuary and World Horse Welfare (WHW), the campaign will highlight the serious and distressing condition which can be a major welfare concern and the preventative measures that should be carried out to help alleviate it.
With sweet itch known to affect 3-5% of all horses in the UK, the initiative will promote the importance of management of the condition before the start of the midge season in the spring.
Nic de Brauwere, head of welfare at Redwings Horse Sanctuary, said: "With more than 1,100 residents and a further 500 in guardian homes, sweet itch is something we are very aware of and a condition we request our guardians be diligent about.
"Our welfare team have seen first-hand the suffering a severe case can cause. We are supporting the SIAM because we believe preventative measures are currently the most effective way to protect horses from sweet itch. Quality information in the hands of caring owners is the best way to achieve this."
 
Backed by a wide-ranging marketing campaign, promotional activity will consist of an extensive advertising campaign in equine consumer media, recommending concerned owners visit their vet, together with a marketing pack for veterinary practices. The pack will feature a range of material including:
A waiting room poster
Invoice stuffer
Invoice stickers
Client leaflets
A leaflet dispenser, and
Window stickers.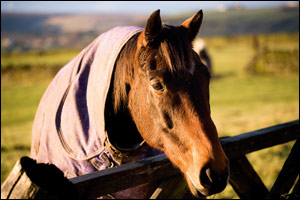 Helen Goldberg, marketing manager at Janssen Animal Health, said: "Sweet Itch Awareness Month will boost awareness of all aspects of this condition and other summer allergies and highlight the preventative measures that can help sufferers."
 
The management and prevention of sweet itch should include:
Moving the horse away from standing water and boggy land;
Stabling at morning and dusk; and
The use of fly repellents.
The most effective fly protection for horses out at grass are light rugs and hoods which can cover all the areas of the horse susceptible to bites.
To support Sweet Itch Awareness Month, Janssen will be running a buy five, get one free or buy 10, get three free Cavalesse and Cavalesse Topical combi-pack offer until April 2011.
For further information on Sweet Itch Awareness Month visit www.fidavet.com, contact your Janssen Animal Health account manager or phone 01494 567555.