By blood typing canine patients as a matter of course, and ordering thecorrect blood, practices can help Pet Blood Bank (PBBuk) to continue to providean effective service to animals in need.
The call comes in advance of a forthcoming study of DEA (Dog erythrocyte antigen) 1.1 tests, which reveals that 60 per cent of the dog population in the UK is DEA 1.1 positive and 40 per cent is DEA 1.1 negative.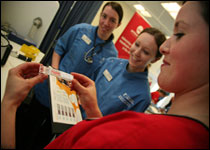 However, instead of blood typing and using type-matched blood, PBBuk claims that practices are ordering only negative blood for transfusing – unwittingly causing negative blood supplies to run low and underutilising available positive blood supplies.
Currently only 25 per cent of orders placed with PBBuk are for positive units, although 60 per cent of donors come from the DEA 1.1 positive group.
PBBuk veterinary supervisor Jenny Walton said: "Blood typing is a simple process, and holding accurate records of blood type can save time in an emergency first time blood transfusion situation, ensuring that dogs are transfused rapidly with the correct blood.
"Using DEA 1.1 typing alongside tests such as cross matching for patients requiring transfusions on different occasions allows for individual lifelong transfusion therapy to be planned and carried out as safely and scientifically as possible. Long term, it allows volunteer donation programmes such as PBBuk's to take all donations offered to them and thus continue to supply growing demand in the most effective way."
Pet Blood Bank UK is a non profit-making organisation which exists tosupport the veterinary profession, providing emergency blood suppliesto practices across the UK. Blood unit charges are set against the costof running the service, and invested in ongoing research programmes.
Vets are urged to establish good practice where blood typing isconcerned in order that they can fully benefit from the service if theneed arises.
For further details, please contact Pet Blood Bank on 01509 232 222, or visit www.petbloodbankuk.org.


______________

To encourage practices to make use of supplies of positive red bloodcell supplies, Pet Blood Bank is offering a 20 per cent discount onpositive red blood cells throughout the months of July and August. Tofurther assist practices in establishing a blood typing protocol, a 20per cent discount is also applicable to blood typing kits purchasedduring this time.