A team from north-east based Westpoint Farm Vets group won the 2015 Coniston Adventure Team Challenge, which will raise an estimated £100,000 for the charity Guide Dogs.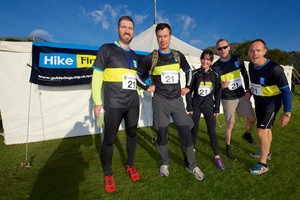 Five veterinary-based line-ups were among the 53 teams that took part in challenge, which comprises hiking to the 2,634ft summit of the Old Man of Coniston, a 12km mountain bike run through the forests of Grizedale and a one-mile kayak along Coniston Water.
The teams from Minster Vets, Westpoint Farm Vets and Biobest Laboratories started training at the start of the year, some members having not carried out any exercise for 10 years.
The winning team (pictured) were Matt Dobbs, Westpoint Group managing director; Paul Hawkes, Westpoint director of M&A; Paul Horwood, Westpoint Farm Vets director; Paul Burr, Biobest chief executive; and Jo Malone, Minster Vets director. They completed the challenge in just over four hours 23 minutes. The second placed team crossed the line more than 15 minutes later.
A Westpoint spokesman said: "Westpoint was extremely proud to take part in this event, raising some much-needed funds for Guide Dogs."
Each team was set a fund-raising target of £2,000. Westpoint Group teams and results: The NE Team, 1st place; The Stragglers, 4th place; Minster terriers 6th place; Fair Manes or Fowl, 24th place; Underdogs 33rd place.