On seeing an abandoned pet carrier on the doorstep, vets and vet nurses from a Greater London practice twigged something was awry – and they were right.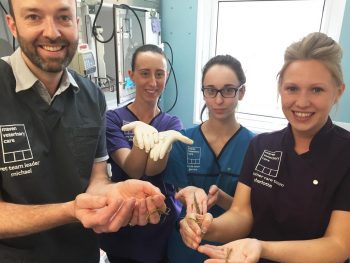 On closer inspection, they discovered it contained more than 200 stick insects – all of which had been abandoned and in need of new homes.
On a mission
A note attached to the cage said: "I'm so sorry, but I've tried to rehome the stick insects without success. Please could you find a new home for them as there are just too many and it's not fair to them. Thank you."
Since then, the team from Maven Vets on London Road, North Cheam, have been looking after the unexpected guests while trying to find new owners.
Stick insects have a habit of playing dead and look – unsurprisingly – like twigs. However, they also quickly spring back to life and have been keeping staff entertained with their antics.
Unusual
Vet Michael Morrice said: "They are certainly an unusual pet for us to be presented with, but we're hopeful we can find good homes for them all. I've even taken a couple home myself much to the delight of my three children, although I'm not sure my wife is 100% thrilled."
Anyone who feels they may be able to rehome the remaining stick insects can contact Maven Vets on 020 8337 2214.