A team of small animal vets took their first steps into the world of emergency critical care after starting the Vets Now Cutting Edge accelerated training programme.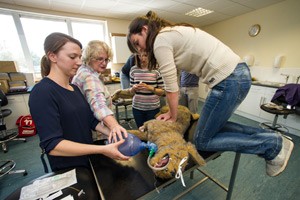 The salaried 10-week course consists of lectures, practical sessions and clinical mentoring on the fundamentals of emergency and critical care.
Practical sessions include suturing, CPR, blood smear interpretation and ultrasound training. A two-day surgical practical utilising cadavers, led by a referral surgeon, is also part of the programme.
The Cutting Edge programme is led by Aoife O'Sullivan, who also oversees the Refresh Your Edge programme aimed at ensuring a fluid progression into the emergency setting for more experienced vets. She said the programme provided a solid foundation for vets transitioning into emergency practice.
"It covers all the essentials of emergency critical care, including communication and work/life balance," she said. "This programme ensures aspiring emergency vets will start their Vets Now career with confidence."
Participants are credited with 322 hours of CPD and, upon completion of the course, given a permanent full-time job with Vets Now.
Amanda Boag, president of the European College of Veterinary Emergency and Critical Care and former president of the European Veterinary Emergency and Critical Care Society, designed the course.