With evidence increasingly suggesting links between the abuse of children, vulnerable adults and animals, an initiative has been launched in Scotland to help vets uncover and tackle domestic abuse.
Research and clinical evidence increasingly suggests links between the abuse of children, vulnerable adults and animals, so an initiative has been launched in Scotland to help vets uncover and tackle domestic abuse where an animal is also being harmed.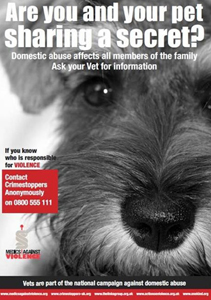 The Domestic Abuse Veterinary Initiative (DAVI) has been launched by Scottish charity Medics Against Violence (MAV) following the success of a similar initiative with dentists.
The project is supported by Crimestoppers, animal protection charity OneKind and The Links Group, a multi-agency interest group that promotes the welfare and safety of vulnerable children, animals and adults (of which BVA is a member).
It is hoped that, by expressing concern, vets could give an abused client the confidence to seek help.
MAV founder Dr Christine Goodall said: "Like doctors and dentists, vets often build strong relationships with clients over years of visits. This makes them ideally placed to spot signs of abuse not only in an animal but also in their owner. Yet on the whole, like dentists, vets are unprepared for this situation. The training we will soon be offering will help them take advantage of a 'golden moment' to intervene and help."
As part of the Initiative MAV is writing to every veterinary practice in Scotland to raise awareness and will be making available (on request) a practice note and a waiting room poster that asks: "Are you and your pet sharing a secret?"
The practice note folds out into an A2 poster which sets out four simple steps to help vets seize the "golden moment" to uncover abuse while acknowledging that the vet is not an expert in human abuse and limiting the vet's further involvement.
The practice note sets out the four steps of Asking, Validating, Documenting and Referring, with the aim of standardising the vet's intervention, allowing questions to be asked about the animal under their care, and by extension the client too.
CPD training courses are also planned for later in the year for vets in Scotland.
BVA president Carl Padgett said: "The profession should welcome the opportunity to play its part in tackling the abuse of animals and humans. When a patient presents with non-accidental injuries and abuse is suspected vets can now follow our recommended guidance."
Mr Padgett also stressed that abuse was not just a companion animal issue. He said: "Large animal vets may come into contact with it too and we should be aware of vulnerable people trapped on remote farms, for example."
Freda Scott-Park, BVA representative on and chairman of The Links Group, said: "Over the years we've seen a growing number of cases where animals have been used as a way of manipulating and controlling victims of domestic abuse. The threat or actual abuse of a pet can often prevent women from leaving situations of domestic abuse. By training vets to be aware of the signs of animal and domestic abuse, we can hopefully support those who are suffering towards getting help."
She added: "While this is currently a Scottish initiative we hope to roll it out UK-wide in time and I encourage all UK vets to look at the guidance notes."
"Ultimately I would like practices to incorporate the MAV/DAVI guidance into their practice protocols."
Veterinary practices can request copies of the practice note and waiting room poster from the MAV co-ordinator at admin@medicsagainstviolence.org or on 0141 532 5816.
The BVA has made the Links Group guidance note available online and it will shortly be available on the Veterinary Defence Society website.
The practice note will be supported by more detailed online guidance notes provided by the Links Group.