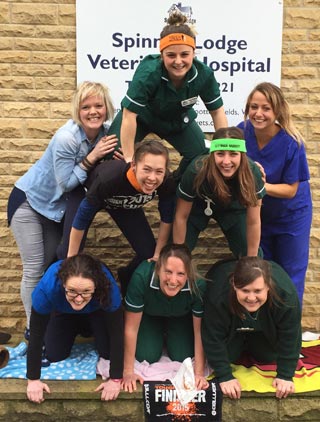 An intrepid veterinary team is gearing up to take on a tough challenge for charity – and will get pretty muddy in the process.
Vets and veterinary nurses from Spinney Lodge Veterinary Hospital in Northampton are in training for a Tough Mudder event on 21 May that will see them clamber over walls, crawl through tunnels, jump into ice buckets and get electrocuted over a 13-mile course.
Helping elderly pet owners
The team is raising money for The Cinnamon Trust, the only specialist national charity that seeks to relieve anxieties and issues sometimes faced by elderly and terminally ill people and their pets by offering dog walking, fostering and general care services and rehoming opportunities when needed.
Spinney Lodge vet Sue Atkins said: "This is an issue we see daily as veterinary professionals. People love their pets dearly and clearly benefit from having them, but they worry about what might happen to their pets if anything happens to them.
"The Cinnamon Trust is there to help and we're proud to help raise awareness and, if possible, some funds for this charity."
To sponsor the team, visit www.everyclick.com/spinneyaretough