A vet from The Mayhew Animal Home has been presented with The Association of Dogs and Cats Homes (ADCH) Special Recognition Award for his work helping animals in both the UK and Afghanistan.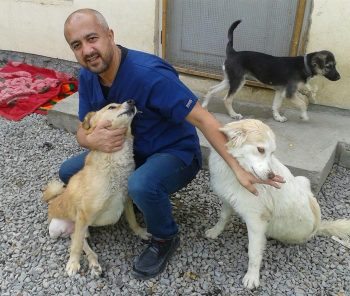 The accolade, presented at the ADCH Conference in Birmingham on 2 May, was awarded to Abdul Jalil Mohammadzai for being someone who goes "above and beyond" in tackling the biggest issues and challenges in animal welfare.
Devoted to animals
Since fleeing from Afghanistan when the Taliban seized power, Dr Mohammadzai has been working at The Mayhew in London as well as his homeland, devoting his career to caring for and saving animals.
For example, he worked extensively to help rebuild Kabul University's Veterinary Faculty, which was was destroyed in the nation's conflict. He also provided assistance to Kabul Zoo following its destruction; responding to their appeals for help by:
reconstructing secure animal areas
sourcing food and medical supplies
attending to the sick animals
Welfare initiatives
Still in Kabul, Dr Mohammadzai has also carried out the region's first ever dog population survey, with a view to developing a humane dog population management programme.
He is also working with the government to deliver Kabul's first animal welfare strategy, and has provided some of the first scientifically-based statistics on companion animal welfare issues from an Islamic country.
Proud
Mayhew chief executive Caroline Yates said: " I, and everyone at The Mayhew, are incredibly proud of Dr Mohammadzai and what he has achieved.
"He is determined to improve animal welfare and veterinary standards in Afghanistan and also implement a sustainable rabies prevention programme that will help the Afghan people and communities."