Michael Thrusfield, Bob Michell, Brian Perry and Ifan Lloyd were all honoured at BVA Congress in Liverpool. The awards were announced during the opening ceremony at the Merseyside Maritime Museum.
Michael Thrusfield, Bob Michell, Brian Perry and Ifan Lloyd were all honoured at BVA Congress in Liverpool yesterday.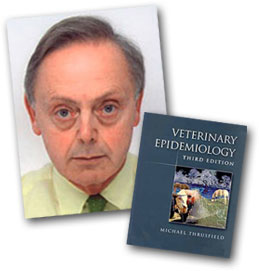 Prof Thrusfield received the Dalrymple-Champneys Cup – the BVA's most prestigious scientific award – for his contribution to the advancement of veterinary science.
Currently professor of veterinary epidemiology at the University of Edinburgh, Prof Thrusfield is the author of the hugely influential reference work, Veterinary Epidemiology, and is a recognised leader in comparative medicine.
He said: "I am honoured to have been awarded the Dalrymple-Champneys Cup and Medal.  I am very aware of the prestige of this award, evidenced by its list of previous holders. I have had very enjoyable career in veterinary epidemiology, and the award will be a cherished gift towards its later stages." 
The recipient of the Chiron Award for outstanding contribution to veterinary science or outstanding contribution to the profession went to Bob Michell.
Prof Michell holds a personal chair in comparative medicine from the University of London and his most recent research has focused on oral rehydration, renal disease and hypertension in humans and animals.
He said: "I was astonished and flattered – astonished because most of my work in the last 10 years has related to human healthcare delivery, and flattered because any award that has a lineage which originates with James Herriot, let alone the distinguished winners since, is truly humbling."
For his contribution to animal health and welfare in Africa, Asia and Latin America, Brian Perry OBE was chosen to receive the Trevor Blackburn award.
Prof Perry has been described as "one of the giants of British overseas veterinary work" and, in 2004, he became the first vet to receive the Outstanding Scientist Award from the Consultive Group on International Agricultural Research.
The winner of the 2012 John Bleby Cup in recognition for outstanding contribution to the BVA council went to Ifan Lloyd. Mr Lloyd has been a member of council since 2011 and during that time has played an important role forging links with the Welsh Government and animal health and welfare bodies.
Photo of Michael Thrusfield courtesy the University of Edinburgh