The British Veterinary Association hopes new guide will help all vets plan for their last ten years in practice, aiding a work-life balance and avoiding burnout.
The BVA has announced the launch of a new guide to help vets plan their last ten years in practice to aid work-life balance and avoid burnout.
According to the association, the BVA Guide to Planning Your Last 10 Years in Practice emphasises the importance of financial planning for retirement from a young age, as it could highlight opportunities for a change in role or career path within the profession. Therefore, the guide is useful not only for those approaching retirement but for any vet at any stage in their career.
The BVA says the guide contains ideas for action and help for planning a clear route through the financial decisions vets will come across.
 
Vet Joerg Niehoegen was one of the first to use the guide. He said: "The new BVA guide is a must read for everybody getting close to retirement. It discusses issues you did not even think relevant. Not only will us old-timers find plenty of food for thought, younger vets will find stacks of good ideas and I wish I had known these things earlier."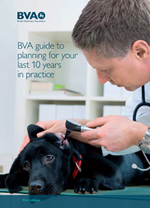 Another BVA member said: "The guide gave me the confidence to negotiate a reduced working week and retain my partnership, which I thought was impossible. I am much happier, with a better work-life balance now."
 
The guide costs £25 for BVA members and £50 for non-members. To order a copy, email the BVA's marketing department or call 020 7908 6362.
 
The guide is supported by a CPD course of the same name to be held at the Hotel Novotel in Liverpool on June 27 (2013). Speakers include financial advisors Anval and insurance specialists Lloyd and White.
For more information, see the BVA's website.