A high-tech, non-invasive instrument that gives unprecedented diagnostic access to a dog's gastrointestinal (GI) tract has been hailed a success by one of the first UK vets to use it.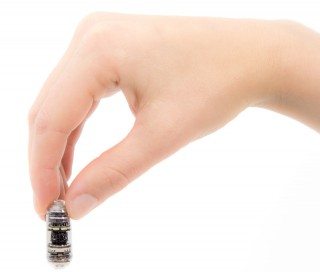 Katie Ford is one of a handful of UK vets to have gained experience in using the US-made ALICAM – short for Ambulatory Light-based Imaging Camera – which made its UK market debut at last year's BSAVA Congress.
The capsule-shaped device is about an inch long and contains four cameras and a light source to generate 360° images when swallowed by a dog. It passes through the animal from mouth to rectum, is retrieved and its information analysed.
Clinical abstract
Dr Ford, of County's End Veterinary Practice in Lees, Oldham, Greater Manchester, has been hugely impressed with the device and is to present a clinical abstract at this year's BSAVA Congress.
She said: "A lot of veterinary colleagues I speak to don't seem to be aware this device is available to them, which is a surprise because it's amazing.
"I'd like to make sure more people know about it because I think it's a really useful modality vets could use to see all those areas of the intestines you can't necessarily see with an endoscope or ultrasound."
'Really useful'
Dr Ford also said: "Apart from the fact you don't need sedation or general anaesthetic, the best thing about this device is you can image parts of the intestinal tract the endoscope can't get to. You can go all the way through the duodenum, ileum and caecum, whereas, previously, with the endoscope, you could only get so far.
"The downside is, obviously, we can't do biopsies with it, but it is very useful for a variety of imaging modalities – even just to see things like intestinal irritations that may not be apparent on an ultrasound. We've found it really useful so far."
In terms of cost, she said: "We've found it is within the realms of possibility for a lot of our patients."
Read the full story in the 6 February issue of Veterinary Times.