Thirty teams faced a day of mental and physical challenges for the fourth annual Vet Charity Challenge, held at Cannock Chase in Staffordshire.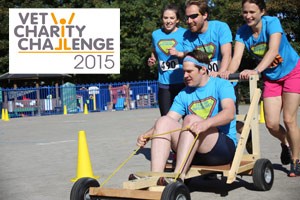 The teams of four took part in walking/running, cycling, kayaking and orienteering tasks that tested their teamwork skills.
Victory went to Relentless Castle Vets, a team from Castle Veterinary Surgeons in Barnard Castle, County Durham. They collected all 1,000 points available on the day.
RVC Roadrunners were the winning student team.
The aim of the day is to have fun, build teamwork within a veterinary practice and raise funds for animal charities. This year's event supported Canine Partners, SPANA and International Cat Care. So far the Vet Charity Challenge has raised more than £100,000.
The challenge is sponsored by BCF Technology, Dechra Veterinary Products and Kruuse, and supported by the VPMA, Mojo Consultancy and Veterinary Practice magazine.
Jason Rogers, from BCF Technology, said the event was the best so far.
He said: "All the teams really entered into the spirit of the day and had great fun. The 'build a go-kart, then race it' part of the event was such a laugh.
"It is such a fun way to raise some serious amounts of money for three great charities."