A Scottish-based vet has become part of the first international team to work with the Chinese in improving the health of its giant panda population.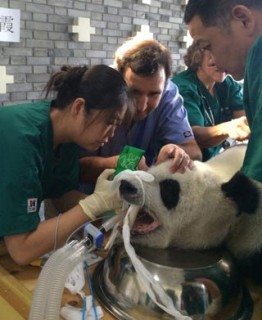 Rui Oliveira visited the Sichuan province of China, where he worked with colleagues from the US, South Africa and Hong Kong to educate local vets on providing more advanced care for its ageing giant pandas.
It is the first time China has sought international expertise to care for its national animal, mainly due to a need to better treat eye and mouth conditions suffered by older pandas kept in their protected breeding programmes.
Local knowledge
The ophthalmology referral clinician – who works at Vets Now Pet Emergency Hospital in Charing Cross, Glasgow – spent a week teaching local vets how to diagnose and manage conditions including cataracts and corneal lesions.
Mr Oliveira said: "I am truly thankful to have been part of this landmark initiative. It has been a privilege to work alongside some of the best veterinary specialists and be part of the first international team to work with the local vets responsible for the panda conservation projects.
"It has also been fascinating to research and learn more about such a wonderful and protected species."