Students at University of Cambridge shown the ropes in large animal rescue.
Veterinary students at the University of Cambridge were hoisted into the world of animal rescue after a visit by the fire service.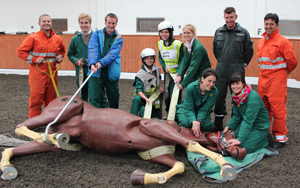 Two of Cambridgeshire Fire and Rescue Service's (CFRS) top animal rescue specialists spent a day with the sixth-year grad students at Cambridge's equine hospital, part of the university's Queen's Veterinary School Hospital, offering them an insight into how fire service officers rescue large animals.
Cambridge-based watch commanders Scott Feveyear and Farsh Raoufi were joined for the day by Jim Green, animal rescue specialist from Hampshire Fire and Rescue Service, who runs the annual session at the veterinary school.
There was no horsing around for the group of more than 30 students, which got hands-on experience with CFRS's plastic prop horse, by learning the basics about the specialist equipment and rescue methods used by the service.
Mr Feveyear said: "We thoroughly enjoy working in partnership with the university's vet school, providing soon-to-be-qualified vets with an insight into large animal rescue and the role and capabilities of the fire service at these types of incidents.
"These training days enable vet students to have an understanding of incident command from a fire service point of view, and also develop an appreciation of our expectations from them as a vet."
The annual training has been led by Jim Green from Hampshire, and it is hoped CFRS will take over its running in the near future.