A steadfast veterinary student pushed his athleticism to new levels after running 105 miles across the Lake District.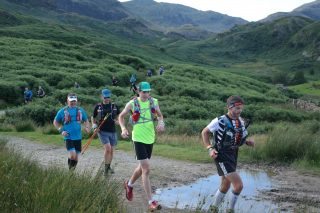 Seth Kennard, 20, of the RVC, took on the Lakeland 100 challenge, covering a distance that meant by the time he had completed a marathon, he was still only a quarter of the way through.
The youngest competitor, he tackled steep climbs and punishing descents en-route.
With a time limit of 40 hours and a dropout rate of between 30% and 40%, finishing is a target for many – however, Mr Kennard secured a 51st place finish in 28 hours and 31 minutes, with 90 seconds separating him from the man in front.
Hectic schedule
To take part in the event, Mr Kennard had to fit a hectic training regime of long bike rides around his third-year studies. It was all worthwhile, however, as this year, he knocked three hours off his previous time.
"It was the second time I had run this race, after finishing two years ago in a time of 31 hours 29 minutes," he said. "I was thrilled to knock three hours of my time.
"Throughout the race, I made sure to enjoy the scenery and the atmosphere, which helped the miles roll by. I hope to keep competing in the mountains in the future and step up my training for next year."
Mr Kennard ran in aid of Médecins Sans Frontières and, to date, has raised more than £250.
He thanked all those who had donated so far and also the RVC alumni for its grant, given in recognition of his achievements in the ultra running field.
For more information, or to donate, visit Mr Kennard's Virgin Money Giving page.