Dedicated vet Ivan Clark went the extra mile and slept the night on the floor of his surgery to ensure his patient recovered following major surgery.
Dr Clark, who owns and works at Vets4Pets Maidstone, Kent, had operated on a Yorkshire terrier, called Kilu, that had suffered life-threatening injuries after being attacked by two larger dogs.
Despite suffering from severe chest injuries, including a collapsed lung and crushed ribs, Dr Clark and his team completed the surgery in three hours, leaving Kilu to recover in a special oxygen enclosure.
Critical condition
Dr Clark said: "When Kilu was first admitted he was in a very bad way and his condition was critical. We cancelled all routine appointments so our attention could be put on saving him.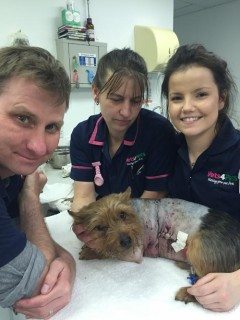 "Everyone was very understanding and passed on their best wishes to Kilu, which really helped us focus on the operation.
"Fortunately, the surgery was a success, despite leaving Kilu with a 10-inch scar, and he was placed under heavy sedation in a special oxygen enclosure to aid his recovery.
Dog bed
"The operation finished at around 9pm, so I decided to make a temporary bed in the surgery that night so I could be on hand in case Kilu needed any further medical support. Unfortunately, my own dogs got to the bed first.
"By the morning, Kilu had improved slightly and while he was still critically ill, the signs were good and he had made a positive start to his recovery."
Remarkably, Kilu is expected to be allowed to go home four days after being admitted. It is estimated it will take six to eight months for him to make a full recovery.
Dr Clark praised the work of his surgical team and offered his thanks to clients who had routine appointments cancelled for understanding the reasons.