A mobile app has been developed to show budding practitioners what it's like to be both a student and qualified veterinarian – and aid their transition to vet school.
The Be A Vet app, created by staff at the University of Glasgow's School of Veterinary Medicine is the first of its kind available for Apple and Android devices via the Apple Store and Google Play.
Range of opportunities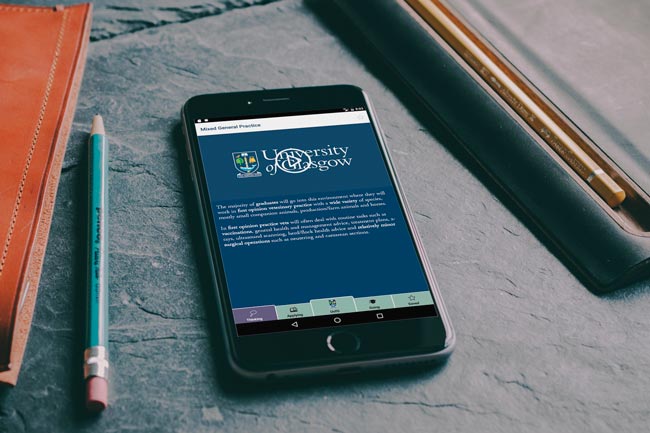 Developed by Peter Hastie, the university's senior lecturer in science and veterinary education, and associate dean of digital education Jo-Anne Murray, the technology guides prospective students through the range of career opportunities open to vets and includes short video clips from those already in the field.
Information on the specific qualities required to become a vet is provided, as well as suggestions of the experience potential applicants should try and obtain before deciding if it is the career for them.
Course information
If a student opts to apply to vet school, the app gives information on the type of course they need to select alongside guidance on admission requirements.
For example, it is important applicants know what differences there may be between various courses containing the word "veterinary", the institution says.
It also looks at what university life is like and gives tips on what students need to take with them for both their course and their new home.
Information on the university's school of veterinary medicine is also included, covering its history, accreditation, campus, facilities and staff contacts.
Help prospective students
A statement from the university said: "The launch of this app should help prospective students decide whether veterinary medicine and surgery is the career path they wish to follow and, importantly, it will support them during their application and transition to life as a university vet student, which for many students can be particularly challenging if they are leaving home for the first time, or indeed leaving to go to another country to study."