Former Scottish Commonwealth medalist helps England's women at Home International Regatta in Nottingham.
A vet temporarily traded in his scrubs and stethoscope for a megaphone and whistle to help guide an elite women's rowing team to glory.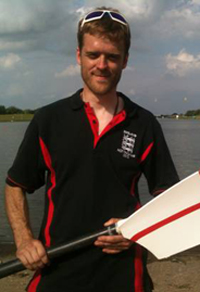 Stan Livy, vet at the Eastcote branch of the Goddard Veterinary Group and a former Commonwealth rowing medallist for Scotland, has just completed his first assignment as a coach to the English women's coxless four and the women's eight.
On July 27, both teams competed in the Home International Regatta, held in Nottingham. The women's four were selected from the Tideway Scullers School in Chiswick, where Stan started coaching them earlier this season.
They won the Belgian international championships in May and were finalists at Henley Women's Regatta in early July.
Stan said: "Both teams did really well. The women's four finished second, but the women's eight, romped home a length ahead of the field, which was a great end to the rowing season.
"It was great to be back at the Home International again even if I got a lot of banter from my former Scottish team mates for being on the wrong side."
The Home International Regatta started in 1962 and was originally held on the Serpentine. It now takes place annually and is hosted by the four home nations in rotation.
England hosted the regatta this year in Nottingham and celebrated by winning the men's, women's, junior men's and junior women's matches.