A four-day scientific programme, including a range of masterclasses, workshops and a focus on canine leishmaniasis, lies atthe heart of this year's Southern European Veterinary Conference.
More than 5,500 international delegates have already registered for the event, which will take place in Barcelona from October 1-4. Key specialities to be covered in the scientific programme include anaesthesia and pain management, dermatology and critical care, while sessions on emerging practice areas, such as shelter medicine and acupuncture will also be on offer.
Given the increasing interest in improving practice management, a series of lectures on issues such as boosting the value of a practice and finding hidden drivers of revenue is also being provided by SEVC's main sponsor Hill's Pet Nutrition.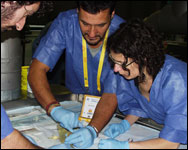 A two-and-a-half day international nursing programme forms an additional important element of SEVC. Topics to be covered include the hospital care of small mammals and exotic pets and osteoarthritis in cats.
SEVC (www.sevc.info) aims to provide the international companion animal veterinary community with a conference which offers both a comprehensive scientific programme and the opportunity to share experience and best practice with colleagues from around the world.
As well as lecture programs, more than 100 exhibitors will showcase their latestproducts, equipment and services during the event.
Commenting on SEVC 2009, organisers said: "In just three years, SEVC has grown to become one of the flagship veterinary events in Europe. In developing the programme for this year, we've talked to both academics and practising vets to explore the topics which they're most interested in now and those they see as moving up the practice agenda over the next year.
"In challenging times for the veterinary sector, we hope that discussions at this year's SEVC will help delegates both brush up their clinical knowledge and benefit from the opportunity to discuss latest thinking in key areas with their peers around the world. We're sure that they will also find time spent in the masterclasses and workshops useful and stimulating.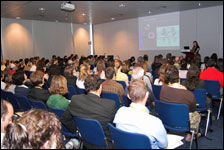 "We'd like to thank our main sponsors, affinity, Bayer, Eukanuba, Hill's Pet Nutrition, Intervet Schering Plough and Merial, for all their support in helping us stage this year's event. We've had a great response so far and are looking forward to welcoming both speakers and delegates to Barcelona in October."
All lectures at SEVC are provided in English and Spanish with simultaneous translation. Some rooms will also offer translation into French, Polish and Russian.
For further information or to book a place, visit www.sevc.info.