The couple have provided pastoral care and support in the southern counties for nearly 40 years.
The Veterinary Benevolent Fund (VBF) has honoured a Dorset-based couple with its fellowship award.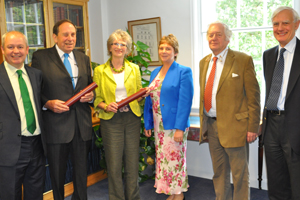 For nearly 40 years, vet Andrew Bellars and his wife Penny have provided pastoral care and support to vets in the southern counties, as well as managing the charity's Dorset bungalows.
Mrs Bellars is also the first non-vet to be awarded a fellowship. "Despite having many interests and a large circle of family and friends, no matter how time-consuming or challenging the issue, they have always been willing to respond to any requests for help from VBF, even where this meant staying up all night with someone or entering into long and sometimes frustrating discussions with local services to get a vulnerable person the right support," VBF spokesman Vanessa Kearns said.
Speaking after receiving his award, Mr Bellars said: "Penny started working with VBF in 1975, when the Veterinary Ladies' Guild was still at full strength and started visiting the VBF bungalows when Elizabeth Ould, and Victoire Ducker regularly came from Sussex to visit.
"She is particularly proud of organising a rota to take turns sleeping on the floor in a resident's room, so this 99-year-old could die peacefully, and not be moved to a nursing home." 
He added: "I joined her in 1992, and oversaw the many rebuilds, improvements, and the gardening. Together we have supported 11 sets of veterinary residents, leaving only one, an enchanting 82-year-old lady, there today.
"The fact that VBF is run by veterinary surgeons means the charity really understands what is needed when a member of the profession gets into difficulty. We hope the next generation of veterinary surgeons will support it too."
Log on to www.vetlife.org.uk for ore information about the charity.