The University of Cambridge's Department of Veterinary Medicine has reported improved communication and increased confidence among students after installing haptic training aids.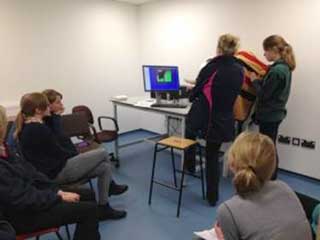 The Haptic Cow and Haptic Horse systems employ a virtual environment and haptics to simulate an animal's internal organs. They were developed by Sarah Baillie, of the University of Bristol, and are marketed and supported by virtual reality and visualisation company Virtalis.
Jackie Brearley, the department's academic lead for clinical skills, said: "By the time our students reach their fourth year, or their first clinical year, they will have studied the anatomy thoroughly via cadaver work and live surface anatomy classes, and are prepared to start applying this knowledge in rectal examination for cattle fertility and horse colic diagnosis.
"Now, however, although our fourth years have still completed all the training offered to students in the past, we are finding, since adding the haptic training prior to rectalling live animals, they are so much better prepared.
"Additionally, the Haptic Horse simulating colic-related conditions provides a tactile experience that cannot be gained with clinical cases for ethical reasons.
"The Haptic Cow and Haptic Horse make it possible for users to suspend their disbelief and makes touching and palpating virtual objects highly realistic. In addition, because the animal's organs are visible on the computer monitor, the instructor can see exactly what the student is doing and direct their movements, something that isn't possible with a real animal.
"Unlike with a live animal we, as trainers, can see what they are feeling with Haptic Cow and Haptic Horse, so there is better communication between students and demonstrators. This means our students' time with live animals is much better used, because they already know what they should be attempting to achieve by touch."