University of Nottingham veterinary experts have been offering free pet care as part of a scheme to tackle cat overpopulation.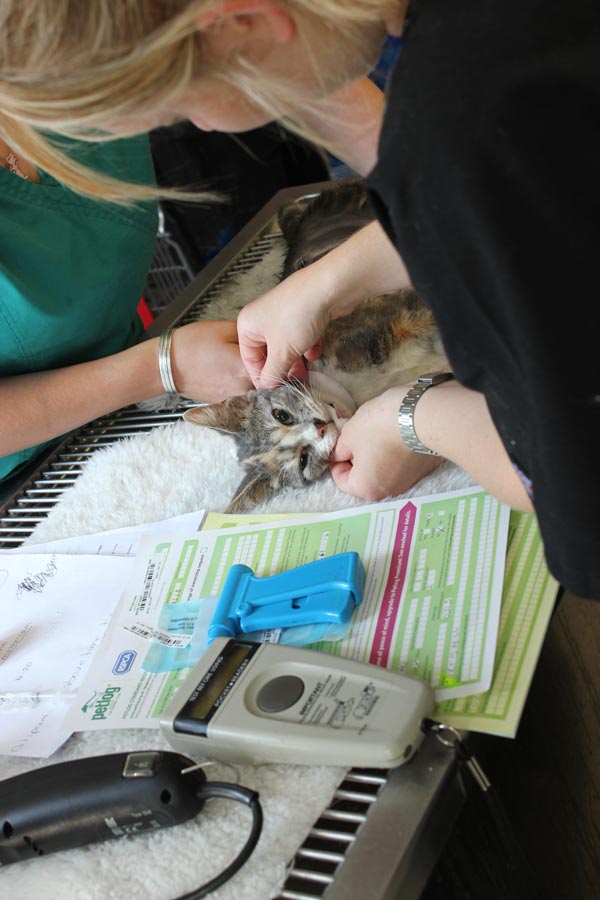 Staff and students from the university's School of Veterinary Medicine and Science joined forces with Cats Protection's East Midlands Neutering Campaign and Derby RSPCA Abbey Street Animal Rehoming Centre to offer free cat neutering to low-income homes in the Osmaston area of Derby.
Door to door
Teams of volunteers from the two charities knocked on the doors of 3,000 homes in Osmaston and an additional 500 in Old Sinfin to offer householders help with their animals.
They provided free transport, neutering, microchipping and flea and worming treatments for more than 70 cats and kittens, using the facilities of Abdul Rehman – owner of Blagreaves Veterinary Centre in Littleover – who lent the volunteers his surgery for the weekend.
'Wonderful opportunity'
Jenny Stavisky, a lecturer in shelter medicine at the vet school, said: "This has been a wonderful opportunity to support the collective approach being taken to address cat overpopulation and provide a valuable service to people who would otherwise have difficulty accessing veterinary care.
"The veterinary students gained valuable experience that they will use throughout their careers, and the hard work and enthusiasm of all involved was exceptional.
"We are also extremely grateful to Abdul, who showed incredible generosity in lending us his practice."
Additional aid
In addition to the free cat neutering, microchipping and transport, the volunteers also offered free dog neutering, microchipping and transport and carried out a number of in-home microchipping procedures for cats and dogs that had already been neutered.
Derby RSPCA financed the dog neutering and all the microchipping.
Cats Protection is continuing to offer unlimited free cat neutering to eligible residents until the end of July at Blagreaves Veterinary Centre and White Cross Vets in Alvaston.