Edinburgh, London and Bristol veterinary schools have awarded prizes intheir feline elective courses.
The feline medicine electiveis composed of clinical work, library projects, visits to rescueshelters and breeders, and talks from visiting speakers.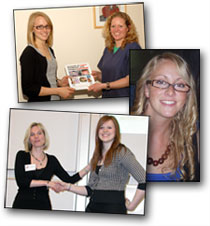 Students were assessed for their depth of knowledge and care shown to feline patients during the elective and the highest achiever is awarded a prize of joint membership of Feline Advisory Bureau (FAB) and European Society of Feline Medicine (ESFM).
The Bristol University feline elective winner was Nicola Beaney, from Canterbury, Kent, shown (top) receiving her first copy of the monthly Journal of Feline Medicine and Surgery from FAB Lecturer Andrea Harvey.
The Edinburgh University winner was Laura Anderson from Kingennie, Angus, shown (bottom) being congratulated by Professor Danielle Gunn-Moore, member of the FAB feline expert panel.
The Royal Veterinary College winner was Esther Lavender from Watford (middle).
The Feline Advisory Bureau is a charity dedicated to promoting the health and welfare of cats through improved feline knowledge, to help us all care better for our cats.