Emile, a 12 year old Labrador, has been reunited with his owner after Petlog managed to track down his owner. Emile went missing from his home in Burgundy, France, and was found on a busy motorway by an Italian truck driver who then took him home for help.
A lost dog who managed to travel nearly 900 miles across international borders has been reunited with its owner.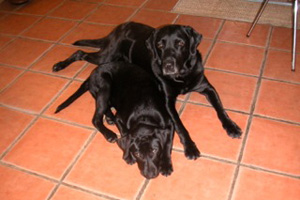 Emile, a 12 year old black Labrador – originally from Ince Blundell near Liverpool – was found on a busy motorway in France more than 30 miles away from his home in Burgundy just before Christmas.
Emile was found by an Italian truck driver who took responsibility for the dog, but unfortunately, due to work commitments, did not have time to take him to a vet in France. Instead, she took him back with her to Italy where she sought help.
It was at a vets in Verona where Emile's microchip was identified but not traced on the French database. However, once the chip was identified, the UK database Petlog was contacted through the European Pet Network and processes were put in motion to reunite Emile with his owner in Burgundy – an 894-mile round trip.
His owner, Matthew Hayes – who was left paralysed from the waist down following a serious accident several years ago – said he was inconsolable when Emile went missing before Christmas.
"Initially, I thought he may have had a heart attack or something and the idea of him dying in the cold nearby was terrible. Devastated doesn't come close – but personally, I was convinced he was still alive."
On hearing Emile was still alive, Mr Hayes said: "I have rarely received such joyous news. Miracles do happen, and the microchip was obviously key. The Italians who looked after him and found all the information were really fantastic."
Celia Walsom, executive at Petlog, said she was "delighted" the lost and found database had played an instrumental role in reuniting Emile with Mr Hayes and said it would have been "impossible" without the dog's microchip and the European Pet Network.
For more information, visit Petlog's website.